Elizabethan dream, in which Julius Caesar and Arviragus characteristically figure.78
A second pharos seems to have stood opposite to the one just described, three-quarters of a mile away, on a spot now covered by the Drop Redoubt.79 To the earlier antiquaries this pharos was better known than its neighbour on the Castle Hill. Indeed, Leland, Lambarde and Camden mention the former and ignore the latter. Old views of Dover show that as late as the end of the seventeenth century this tower stood high above ground, a prominent mark on the bare Western Heights.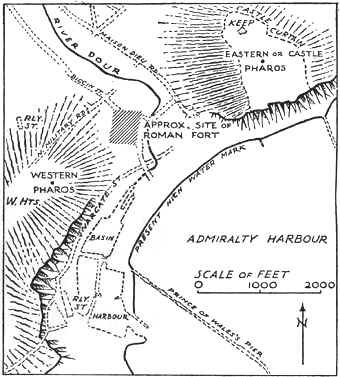 FIG. 11 SKETCH MAP OF DOVER, SHOWING THE SITES OF THE CASTLE PHAROS, THE WESTERN PHAROS, AND APPROXIMATELY THE ROMAN FORT (Reproduced from Arch.Journ. lxxxvi, 30)
The Canterbury antiquary, Thomas Twyne, told Camden that in his youth he had seen it nearly perfect, and that it was a pharos. He was probably right. It must at least have served as a seamark; and it is but a slight step further to imagine that Roman Dover was flanked by twin lights which would serve not merely to 'bracket' the harbour but would form a distinctive feature amongst the coastwise signals. By the first half of the eighteenth century the western tower had fallen into an advanced state of decay. It was then known alternatively as the Bredenstone or the Devil's Drop, and here, from the middle of the seventeenth century onwards, the
Lords Warden of the Cinque Ports were sworn in. After further vicissitudes the foundation of it was buried, in 1861, in the present redoubt, in which a small and formless fragment of it is still
78 For the pharos see Leland, vii, 128; Stukeley, Itim. (ed. i), p. 121, the first attempt at a real survey; Wheeler, Arch. Journ. lxxxvi, 29, a full account. On ancient phari generally, see H. Thiersch, Pharos (Leipzig, Teubner, 1909). For the church—often, but absurdly, ascribed to the Roman period—see Gilbert Scott, Arch. Cant. v, 1—18; Micklethwaite, Arch. Journ. liii, 327; Baldwin Brown, Arts in Early England, ii, 292, 308. Canon Puckle's Church and Fortress of Dover Castle (Oxford, 1864) contains useful details, but is written with little knowledge of Roman history or archaeology. The author thinks that British Christians built the church about the end of the Diocletian persecution, 'when their weakened masters were on the point of abandoning the colony.' This ignores the 100 years which intervened between Diocletian and the withdrawal of the Romans from Britain; and it also mistakes the relations of Romans and Britons at the time. Cf. Peck in Brit. Arch. Assoc. N.S. xx, 24B; and Haverfield in Brit. Acad. Suppl. Papers, ii, 1914, p. 3.
79 For a full account of the history of this ' pharos' since the sixteenth century, see Wheeler, Arch. Journ. lxxxvi, 40.