Victoria County History of Kent Vol. 3 1932 Romano-British Kent - Military History Plate IX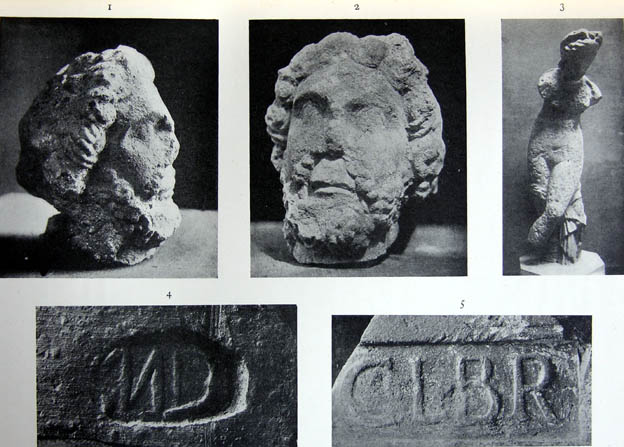 Nos 1 & 2. Head of late second or early third century type, found built into an ancient wall near Queen St. Height 7½ in.
No. 3 Statue of Nymph found under St Martin's Church, Dover. Height, 3 ft 10 in. (Dover Museum)
No. 4 Tile Stamped AND (? Anderida) or, less probably (? Dubra), found in Church Street, Dover.
N. 5 Tile stamped CL (assis) BR (itannica), found in Market Street, Dover.
Previous Page Plate IX Plate X
Back to Roman Military History Introduction Contents Page
This website is constructed by enthusiastic amateurs. Any errors noticed by other researchers will be gratefully received so
that we can amend our pages to give as accurate a record as possible. Please send details to localhistory@tedconnell.org.uk