only represented on his tomb, which he had erected during Henry's reign, with the collar of SS, but the chantry, also built by him, is profusely ornamented with the same collar, enclosing his monogram, J. B. He probably received the privilege of wearing it during Henry's visit to St. Edmundsbury, in 1433.1
In all the instances where I have found a trace of the position of the parties, they evidently held some office connected with the Crown, or were otherwise attached to the reigning family, and were not mere knights. The weight of evidence clearly preponderates in favour of the hypothesis, that those only were entitled to wear this collar who were in some way connected with the royal household or service.
On the accession of Edward IV., the Yorkist collar of roses and suns was of course adopted, and to its clasp the white lion of the House of Marche was commonly attached.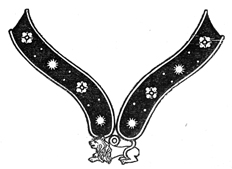 THE COUNTESS OF ESSEX.
But the collar of SS was revived by Henry VII; and the frequent insurrections in that king's reign would have the natural effect of inducing his partisans to distinguish themselves by his emblem. The consequence was, that by degrees it was assumed by unprivileged persons; so that when eventually the two houses ceased
1 Bury Wills (Canden Soc.), pp. 15-44, 233.